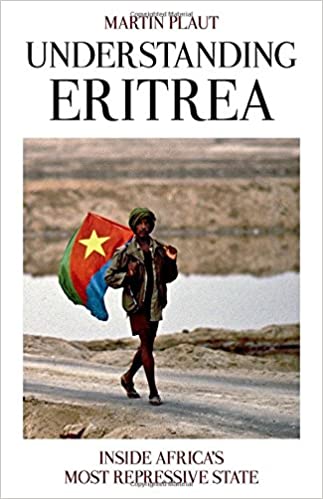 Understanding Eritrea: Inside Africa's Most Repressive State
by Martin Plaut
(Oxford University Press, 2017) 264 pp
Reviewed by: Dr. Wyndham Whynot, Livingstone College
Almost half of Africa's political systems practice some form of authoritarian government; however, which African country is the most repressive? Some might argue that countries such as Libya or Equatorial Guinea are more authoritarian; however, Martin Plaut argues as of 2015-16 that Eritrea holds that distinction, especially with the United Nations (UN) declaring the country a totalitarian state.
Understanding Eritrea
 examines reasons why President Isaias Afewerki's and his followers developed policies creating an authoritarian government. Although colonial-era policies helped establish the country's current policies, the author argues that issues between Ethiopia and Eritrea play a significant role in the repressive nature of Afewerki's government.
Initially providing a brief history of colonial-era Eritrea, the author discusses how the UN's decision to associate Eritrea with Ethiopia resulted in a 30-year conflict ending in 1991 and a treaty in 1993. Despite the treaty, Ethiopia's failure to abide by the final agreement, according to Plaut, has essentially created conditions leading to a continuing state of low-level hostilities. Essentially, Afewerki policies placed the country on a war footing to oppose possible Ethiopian attacks or to deal with potential hostile actions in areas in the region. The author believes this interference is designed to create additional challenges for Ethiopia's government.
Despite focusing on modern Eritrean history and politics, this book also examines the country's economy. Plaut notes that UN reports on economic statistics are highly suspect because Eritrea severely restricts information about their economy, and no formal budget exists.
Consisting of an overt and covert economy, the former mostly focuses on the agricultural sector and mining; the latter controlled by Afewerki and elites consists of state- or military-owned businesses. Additionally, Eritreans abroad are expected to pay a two percent tax on their income to qualify for any assistance from their diplomatic corps or return home. Furthermore, the author examines the role of foreign ties between Eritrea and several countries, enabling elites to acquire wealth, hard currency, or provide economic support for the country's operating expenses.
Plaut argues that various European Union and other western countries contribute to Eritrean repression by refusing to hold the country to higher standards of conduct. Consistently large numbers of Eritreans illegally leave the country seeking better conditions elsewhere. Reasons for departing include harsh conditions, lack of civil liberties, and arguably the most critical are indefinitely required national services. The latter, initially designed to provide military training, now serves to create an "opportunity" for employment despite the vast majority being designed to provide a labor source for foreign companies operating in Eritrea or provide a labor pool for the government to use as they see fit.
Is Eritrea the continent's most repressive government? That question is difficult to answer for several reasons accurately; the first is how one measures one country versus another; secondly, what factors qualify a country for this title? Obviously, the UN classification of Ertirea's government as a totalitarian state is a good step toward claiming the title. However, Plaut goes further documenting policies Afewerki's administration has taken and the results of these actions.
Plaut, a journalist who has visited and reported on Eritrea and other countries in the region, provides a partial first-hand account of what he has experienced and investigated during his travels throughout the Horn of Africa. He provides information from interviews with Eritreans and his observations made during his visits. Despite using some primary sources such as United Nations reports and treaty talks, much of his book relies on secondary sources. A small number of pictures are included in this work, primarily from the UN monitoring group and some personal photos.
A single map of Eritrea is included; the book could benefit from adding another map or two. Inclusion of a copy of the Algiers Agreement between Eritrea and Ethiopia and the copy of American Ambassador Ronald McMullen's analysis of Afewerki's behavior or mental state in the appendices are somewhat useful to understanding both Afewerki and Eritrean policies.
Understanding Eritrea
 serves as a great introduction to this enigmatic country in the Horn of Africa. Scholars interested in African politics can benefit from this study of the creation of an autocratic/authoritarian political system. However, this work is more appropriate for either students or individuals interested in learning about Eritrean history and politics and the Horn of Africa. This book could easily serve as a supplemental text for various courses focusing on Africa, and this reviewer recommends it as a great introduction to Eritrean politics.