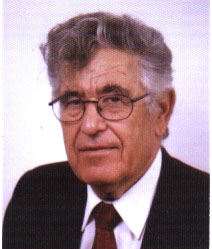 Moshe Sharon, born in Haifa in 1937, educated at the Hebrew University and the University of London, has conducted research in Oxford, Paris and Dublin. He joined the faculty of the Hebrew University of Jerusalem in 1965 and received his PhD in Islamic history from that institution in 1971. He has taught Islamic history and civilization with special emphasis on the Shi'a.
He is a specialist in Arabic epigraphy and has recorded all the Arabic inscriptions in the Holy land. Since 1997 he has published five volumes of his opus, still in progress, Corpus Inscriptionum Arabicarum Palaestinae (Publisher: Brill, Leiden 1997-2008). In 1999 professor Sharon was appointed to the chair of Baha'í Studies and is now Professor Emeritus of Islamic and Middle Eastern Studies at the Hebrew University of Jerusalem. In 2005 he published the first translation into Hebrew of al-Kitab al Aqdas, the holy book of the Babí-Baha'í faiths, and included a study of the history and theology of the group.
Professor Sharon served as Prime Minister Menachem Begin's adviser on Arab Affairs and took part in the negotiations for peace with Egypt.
He and his wife, Judy, have six children and twenty two grandchildren.