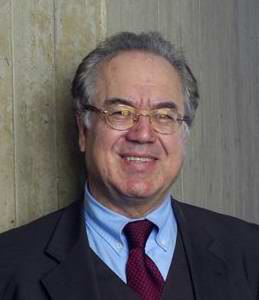 Bassam Tibi is Professor Emeritus of International Relations at the University of Goettingen and has served as Director of the Center for International Affairs established there in 1988. He also served as the A.D. White Professor at Large at Cornell University.
Born in Damascus to the centuries-old family Banu al-Tibi of Damascene nobility, Tibi was educated in Islamic and Western-style schools in Damascus before moving to Germany to pursue his post-secondary education. Tibi received his Ph.D. in 1971 from the Johann Wolfgang Goethe University of Frankfurt and his Dr. habil (the German super Ph.D.) from the University of Hamburg in 1981.
Throughout his accomplished academic career, Professor Tibi has held 18 visiting professorships on four continents and has lectured at over 30 universities on all five continents. In Europe, Tibi has taught on campuses in Germany, Switzerland and Turkey and has held visiting appointments overseas at the University of Khartoum (Sudan), Universite de Jaounde (Cameroon), Hidayatullah Islamic State University-Jakarta (Indonesia), the National University of Singapore and the Institut Islamique de Dakar (Senegal). In the U.S., Tibi has held appointments at Princeton, Harvard, Yale, Georgetown and UC Berkeley.
Tibi has written 27 books in German and eight books in English, has contributed dozens of chapters to collected volumes and has published more than 300 scholarly articles and essays in academic journals. In addition, Tibi has been a regular columnist and contributor to major newspapers and news magazines in Germany, including Der Spiegel and Focus.
His work deals with conflict and modernity in Islamic civilization with a focus on the Middle East, the Mediterranean region, and Southeast Asia. His recent focus has been Islamic migration to Europe. Tibi is also an expert on jihadism's irregular war and the religious fundamentalism of political Islam.
In 1995, Tibi was awarded the highest decoration in Germany—the "Bundesverdienstkreuz" first class—by then President Roman Herzog for in scholarship and media on Islam and the West.