Stuck in the middle: Afghanistan between the superpowers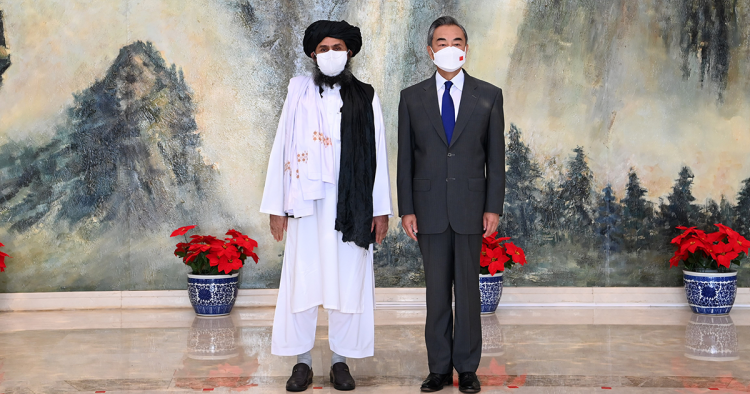 After 20 years of extensive involvement in Afghanistan by the U.S. and other NATO allies that included tens of thousands of lives lost, billions of dollars spent, and a very difficult withdrawal at the end, now is the time to ask what the other superpower, China, sees in the country and how it plans to approach relations with its new rulers, the Taliban. This article will map out how the Taliban takeover of Afghanistan will impact the U.S.-China relationship through the lens of superpower competition, as well as China's interests in the country.
Two different approaches: Beijing and Washington
History suggests that the latest actions of both superpowers should not come as a surprise. China's policy toward regime change was already clear from what happened in Egypt and Sudan. Hosni Mubarak, the Egyptian president between 1981 and 2011, had very close ties with China, going so far as to say in 1999 that he felt "at home when I visit in China." He made nine official visits to China as of 2009, the most among foreign leaders at that point. However, this did not help him at all during the Egyptian revolution in 2011, when he was forced to step down; China did not give him any support — diplomatically, morally, or otherwise — and embraced the change in regime without hesitation. The case of Sudan's long-time president, Omar al-Bashir, who was overthrown in 2019 in a military coup after 30 years at the helm, was not very different. Chinese officials did not offer Bashir any support; Beijing only repeated its principle of non-interference and respect for state sovereignty, and looked for ways to contact the new regime.
On the U.S. side, we can see a pattern of American military interventions in the Middle East that come to an end without completing the purpose for which they ostensibly began. The most recent cases were in Iraq with the fall of Saddam Hussein and in Syria with its long civil war. In both cases, the respective American presidents, George W. Bush in the Iraq war and Barak Obama in Syria, started the operations with great expectations and wound them down without having accomplished them. These failures, alongside the rise of China as a superpower as well as other international events in parallel, created the world in which we now live in — one marked by a struggle between two great powers with quite different goals and approaches. One major example of the different way in which Washington and Beijing deal with other countries is the fact the U.S. (as well as other Western powers in the past and present) frequently sends the army in first to gain a grip and then applies other tools of influence, such as education and culture. The Chinese, by contrast, take the opposite approach and build a sophisticated mechanism of education and culture to gain influence without using their army. Afghanistan is a recent battleground between the two superpowers and a case study in how their differing approaches have played out.
The second half of this article will discuss China's interests in Afghanistan and what we can expect to see in there in the framework of superpower competition.
Chinese interests in Afghanistan
Even before the Americans finished their withdrawal from Afghanistan, the Chinese foreign minister, Wang Yi, met with Taliban Political Commission head Mullah Abdul Ghani Baradar at the end of July. The Chinese thereby showed a good understanding of Afghanistan's changing domestic dynamics and the fact that the Taliban was likely to take over the country rapidly after the U.S. withdrawal. Afghanistan and China share a 76-km border that abuts an extremely sensitive area on the Chinese side, Xinjiang Province, where most of China's Muslim Uyghur population lives. In addition to the two countries' geographic proximity, Afghanistan is also home to a large community of Uyghurs that fled China, which makes the connection between the two sides of the border even more of a concern for Beijing.
The first Chinese interest in Afghanistan is directly related to this. Although the Uyghurs do not even comprise 2% of China's total population, the Chinese Communist Party (CCP) sees them as a major threat to stability. This is mostly because of the regime's fear of "a domino effect" that could lead to a wave of unrest throughout the country. As a result of this fear, the Chinese regime wanted to deal with this risk in advance and to make sure the Taliban will not export their religious extremism or agitate the Uyghurs in China in any way. The tightening relations between the leaders of China and the Taliban have already become a serious cause for concern among Uyghurs living in Afghanistan, prompting them to fear for their lives.
Another geographic factor is Afghanistan's utility for China as a direct land connection on to Iran and other Middle Eastern countries as well as to the Caspian Sea area. The land route is becoming more and more important because of the tensions in the South China Sea, which has been constantly monitored by the Indian navy as well as other counties of the Quadrilateral Security Dialogue (QUAD). As a result, the land route could not only be safer for the Chinese, but also cheaper and shorter as well. This route would likely be part of the massive Chinese Belt and Road Initiative (BRI), but before the Chinese start to invest their money in Afghanistan, they will wait to see if the Taliban can prove that it is not too risky of a bet and has enough of an economic upside. In a recent interview, spokesman Zabihullah Mujahid made clear the Taliban appreciated China's BRI project and hoped Afghanistan would be included in it.
As part of their superpower competition, both the U.S. and China require key natural resources like oil and natural gas, much of which comes from the Middle East, but also other commodities as well, like rare earth metals, which are essential for advanced military and civilian industries. China has worked to take control of the rare metals sector and has on several occasions in the past used its monopoly in the area as a lever of pressure. In the past year, for example, it threatened to cut off supplies to the U.S. as part of their trade war. Afghanistan is home to some of the world's largest rare earth metals deposits (an estimated $1 trillion worth of them), while China is a worldwide leader in mining rare earths. Unlike infrastructure, this may be an area where the Chinese will get involved quite soon, due to both their needs as well as their efforts to gain an even stronger grip over the market for rare earth metals.
China's messaging campaign
China's worldwide messaging campaign is already using America's unorganized and hasty withdrawal from Afghanistan as part of its broader efforts to delegitimize U.S. hegemony. Through this campaign, the Chinese want to defeat the U.S. in terms of both optics and influence. Taiwan, which enjoys close relations and defense ties with the U.S., is a major target of this campaign, and Beijing has drawn direct comparisons between what happened in Afghanistan and what might happen there. The Global Times, a state-run CCP newspaper, wrote in an editorial on Aug. 16, "How Washington abandoned the Kabul regime particularly shocked some in Asia, including the island of Taiwan. … Is this some kind of omen of Taiwan's future fate?"
During the years of American intervention in Afghanistan and other countries in the Middle East, the Chinese looked on from the outside at American actions, criticizing them from time to time, and largely waited. After it became clear the Americans would withdraw from Afghanistan, Beijing started to look for opportunities to expand their influence in the vacuum that was created. Going forward, the U.S. government must find ways to better frame their international activities if they want to maintain their position among nations. In addition, they must also find ways to counter Chinese propaganda against them in the media and elsewhere, in order to build a clearer and most consistent Western narrative. In doing so the main challenge will be the multiplicity of opinions, different approaches, and the variety of beliefs and values — a very different way of governance than that of China and some of its allies.
Roie Yellinek is a member of ASMEA and researcher at the Begin-Sadat Center for Strategic Studies and a non-resident scholar at the Middle East Institute.
The opinions expressed here are his own.
Read the original post on the Middle East Institute website.
Photo credit: by Li Ran/Xinhua via Getty Images
Share this post: