What Is Erdogan's Real Plan for Kurds?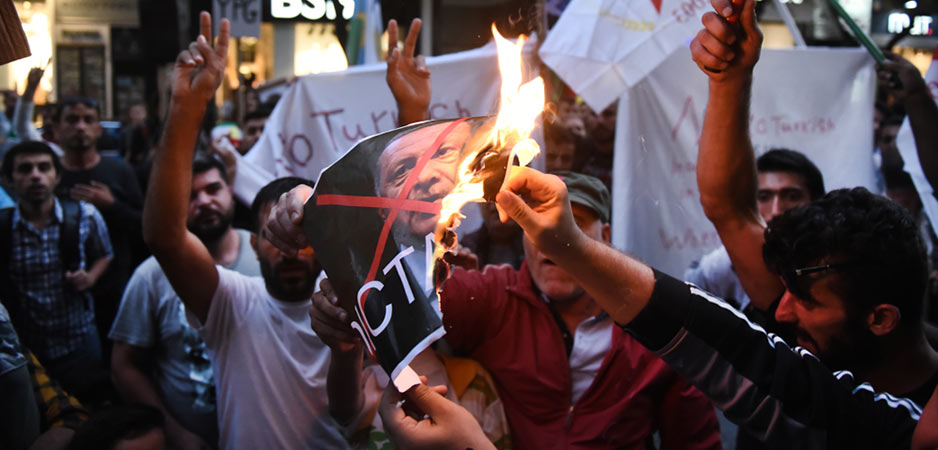 In a recent interview with Turkish state broadcaster TRT World, President Recep Tayyip Erdogan made clear his ambition for Ankara's military offensive against Kurds in northern Syria. In an almost two-hour program on October 24, he explained his plan for demographic change in the Kurdish region. Erdogan emphasized the resettlement of more than 3 million Syrian Arab refugees to the Kurdish heartland of Syria. He added that the proposed safe-zone near the Turkey-Syria border with the building of a city for refugees would be a historic victory.
What was surprising was Erdogan's claim that the dry environment in northern Syria and the Kurdish lifestyle is his reason for planning to change the demographics of this region. During the interview, he showed a map of Kurdish territory — known as Rojava — in Syria and said that it belongs to Arabs, not Kurds, since it is not a suitable place for Kurds. Erdogan's logic is that as these areas are essentially a desert, then only Arabs can live in the desert.
The Turkish president's claim raises questions: Is that region a desert and are Kurds not suitable for this environment? To answer this, it is essential to understand the difference between northern Syria and southern Turkey as both parts are inhabited by Kurds. The "desert territory" that Erdogan mentions is just a few minutes away from Turkey's Kurdish region.
Since the 1916 Sykes-Picot Agreement that carved up the Middle East between the British and French, the Kurds and their territory have been divided across Turkey, Syria, Iraq and Iran. On the Turkey-Syria border, there is a simple wire separating the two countries. That is why both sides are just a few minutes away from each other and have the same terrain. So, how is it possible to say that Kurds who live in Syria have a different lifestyle from those who live next door in Turkey?
With this in mind, it is clear that Erdogan's claim is illogical. Added to that, there is no desert in northern Syria and the lifestyle of Arabs has changed as well — they do not live in the desert. So, why does Erdogan insist on changing the demographics in the Kurdish region of Syria?
The Arab Belt
To answer this question, it is important to understand that this strategy of changing the population of the Kurdish region is not new and did not start with Erdogan. Rather, it was a Syrian regime project from the mid-1960s when the Baath party decided to create an "Arab belt." This consisted of a 10-to-15-kilometer region along the Syria–Turkish border. The plan anticipated the deportation of 140,000 Syrian Kurds living in 332 villages situated inside this area and replacing them with Syrian Arabs. The plan was to separate Kurds so they could not live in a united territory in northern Syria, preventing them from any future claim for independence.
Yet the plan was not realized until the 1970s when around 4,000 Arab families were moved to 41 farms in Syria's Kurdish-majority Jazira region as well as to 15 farms north of Raqqa. Led by Hafez al-Assad, the Arabization campaign of Jazira was halted in 1976, but the status quo remained unchanged. As a result of Arabization, the Kurdish region in Syria — unlike other Kurdish parts of Turkey, Iran and Iraq — is not a united territory.
Today, Erdogan is planning to apply the same initiative. He is trying to change the Kurdish region in the Middle East by eliminating Kurdish social and political structures in this part of Syria. For some observers, it is believed that the Turkish president is not going to stop there and will extend this plan to Kurdish areas of Iraq and Iran as well.
Turkey's border with Iran means a similar situation to that of northern Syria could take place. In this region of northwest Iran, there are mixed ethnic groups, including a Kurdish majority and an Azari minority — with the latter being in favor of Turkey.
The northwest region of Iran has experienced a number of Kurdish uprisings, such as the 1918-22 Simko Shikak revolution. Since Reza Shah Pahlavi, Azari people — who are Shia Muslims — have been settled in this region to prevent the movement and mobilization of Kurds.
Ankara has supported Azari nationalists and, as a result, these groups have encouraged Turkey's aggressive behavior in Syria. For instance, when a majority of Iran's parliament condemned Turkey's invasion of northern Syria, Azari parliamentarians such as Ghazi Pour and Muhammad Hasannajad criticized the move by his colleagues in the Majlis.
Unlike Syrian Arabs, the Azari population in Iran see themselves as part of Turkey, and they call for linking Iran's Azerbaijan province with Turkey. On October 20, Ahmat Yigit Yildrim, a Turkish, pro-Erdogan parliamentarian, tweeted that after northern Syria, it would be northwest Iran's turn to be attacked. He also added that Iran's northwest province would be part of a greater Turkey.
Erdogan's support for Azari groups in Iran is likely to result in added tension between Ankara and Tehran in the near future.
Iraqi Kurdistan could be another victim of Erdogan's plan. In recent years, Turkey has bombed Kurdish border villages in Iraq. Ankara claims that fighters aligned with the Kurdistan Workers' Party, which the Turks call a terrorist organization, use this region as a base to attack Turkey. These raids that have mostly targeted the regions close to the Turkey-Iraq border have caused the evacuation of hundreds of villages and the displacement of thousands of people.
The implementation of Erdogan's strategy depends on political developments in Syria. If he is able to settle 3 million Syrian Arab refugees in Kurdish regions of northern Syria, then this could be the start of his master plan.
Shukriya Bradost is a member of ASMEA and PhD student at the Virginia Tech University.
The opinions expressed here are her own.
Read the original post in the Fair Observer.
Photo by © Giannis Papanikos / Shutterstock
Share this post: