Fourth Annual ASMEA Conference
Out of the Past, Into the Future: Reflections on the Middle East and Africa

November 3-5, 2011 | Key Bridge Marriott Hotel | Washington, D.C.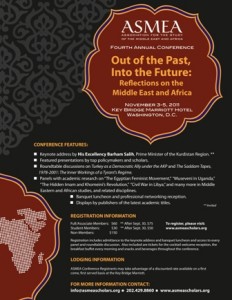 The 2011 Conference featured:
Keynote address by His Excellency Barham Salih, Prime Minister of the Kurdistan Region.
Remarks by His Excellency Ali Suleiman Aujali, Ambassador of Libya.
Featured presentations by top policymakers and scholars.
Roundtable discussions on "Turkey as a Democratic Ally under the AKP," "The Saddam Tapes, 1978-2001: The Inner Workings of a Tyrant's Regime," and "Syria's Freedom Revolution: The Struggle for a Post-Assad Future."
Panels with the lastest academic research on "The Egyptian Feminist Movement," "Islamic Anti-Semitism and the Arab-Zionist Conflict," "Museveni in Uganda," "The Hidden Imam and Khomeini's Revolution," and many more in Middle Eastern and African studies, and related disciplines.
Banquet luncheon and professional networking reception.
Displays by publishers of the latest academic titles.