Book Discussion: Israel's Moment
Prof. Jeffrey Herf's discussed his book, Israel's Moment, at the Fifteenth Annual ASMEA Conference. He was awarded the Bernard Lewis Prize for this work.
Jeffrey Herf is Distinguished University Professor, Department of History, University of Maryland, College Park, where he teaches Modern European, especially modern German History. He has published extensively on the origins, nature, consequences  of Nazism, World War II and the Holocaust, and their aftermath in Europe and the Middle East. His published works include Reactionary Modernism: Technology, Culture and Politics in Weimar and the Third Reich (Cambridge U.P., 1984); Divided Memory: The Nazi Past in the Two Germanys (Harvard U.P. 1997); The Jewish Enemy: Nazi Propaganda during World War II and the Holocaust (Harvard U.P., 2006); Nazi Propaganda for the Arab World (Yale University Press, 2009); Undeclared Wars with Israel: East Germany and the West German Far Left, 1967-1989 (Cambridge U.P., 2016), and, most recently, Israel's Moment: International Support and Opposition for Establishing the Jewish State, 1945-1949 (Cambridge U.P., 2022). His commentaries on contemporary history and on contemporary antisemitism have been published in American Interest, American Purpose, Frankfurter Allgemeine Zeitung, Internationale Politik, Israel Journal of Foreign Affairs, The New Republic, The Tablet Magazine, his blog at The Times of Israel, Die Welt, and The Washington Post.
Israel's Moment: International Support for and Opposition to Establishing the Jewish State, 1945–1949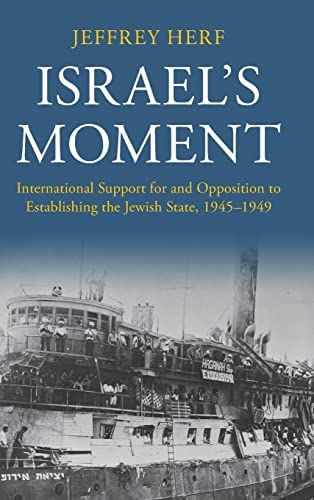 Israel's Moment is a major new account of how a Jewish state came to be forged in the shadow of World War Two and the Holocaust and the onset of the Cold War. Drawing on new research in government, public and private archives, Jeffrey Herf exposes the political realities that underpinned support for and opposition to Zionist aspirations in Palestine. In an unprecedented international account, he explores the role of the United States, the Arab States, the Palestine Arabs, the Zionists, and key European governments from Britain and France to the Soviet Union, Czechoslovakia and Poland. His findings reveal a spectrum of support and opposition that stood in sharp contrast to the political coordinates that emerged during the Cold War, shedding new light on how and why the state of Israel was established in 1948 and challenging conventional associations of left and right, imperialism and anti-imperialism, and racism and anti-racism.
For a 30% discount on this publication, order from Cambridge University Press and use offer code HERF2022.
Read book reviews for Israel's Moment: